the historic smokebeer brewery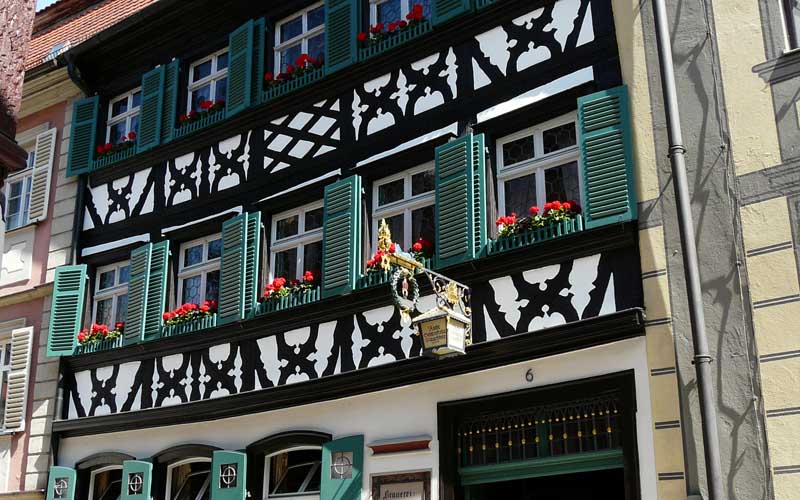 In the middle of the old part of Bamberg, directly beneath the mighty cathedral, one can find the historic smoked beer brewery Schlenkerla. First mentioned in 1405 and now run by the Trum family in the 6th generation, it is the fountain of Original Schlenkerla Smokebeer (in German language it's called "Aecht Schlenkerla Rauchbier"). The smoked beer is here at the brewery tavern still being tapped directly from the wooden barrel according to old tradition.
"Even if the brew tastes somewhat strange at the first swallow, do not stop, because soon you will realize that your thirst will not decrease and your pleasure will visibly increase."
---
Other Schlenkerla news:
Annual Urbock tapping on October 4th. And if you can not be there: The Urbock is also available online.
Schlenkerla Rauchbier becomes passenger of the "Ark of Taste" by Slow Food
Schlenkerla in 2018 again kosher certified
Opening times Christmas and New Year 2018 / 2019.
Find Schlenkerla Rauchbier near you: Shopfinder
---
Welcome to the website of the Schlenkerla!
To have a quick overview over the contents of our virtual Schlenkerla, please have a look at the table of contents at the bottom of each page. We wish you a pleasant stay in our "virtual Schlenkerla" and hope to be able to welcome you once in real-life in Bamberg, the World Cultural Heritage (UNESCO) in the heart of Franconia.
Yours,