Schlenkerla Helles Märzen
refermented "Kräusen" blend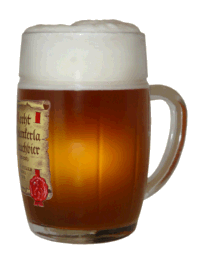 In the world of German brewing, Kräusen refers to the intense proliferation of bubbles and foam formed during fermentation of a young or "green" beer. And Aufkräusen (literally to kräusen it up), refers to a historic brewing technique in which some green beer is added to a fully-matured lager. This is a very old and very typically German tradition, and today even English-speaking brewers refer to this technique as krausening. Krausening brings the vibrant freshness of young beer to the more refined, austere flavors of a fully-matured lager.
Aecht Schlenkerla Kräusen starts out as normal Helles Schlenkerla Lager and matures for months in the old rock cellars underneath the brewery. Just before filling it is blended using the before mentioned "Kräusen" technique with classic Märzen Rauchbier. The result is an unfiltered, bottom fermented and amber color Märzen Lager hybrid with a vibrant and slightly smoky flavor .
Facts on "Schlenkerla Helles Märzen - refermented Kräusen Blend ":
blend of classic Märzen Rauchbier and Helles Lager
4.5% alcohol
30 bitter units from finest aroma hops
---
Imported and freshly filled the kegs and cans by B. United International. Distribution and on site sales in many states (check with B. United for current details). Examples: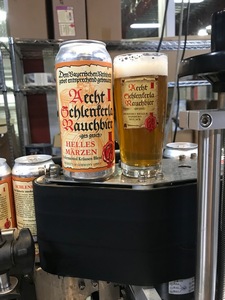 Brewers Fork
Address: 7 Moulton ST, Charlestown, MA 02129
Phone: 617-337-5703
one Star Allston
Address: 479 Cambridge St., Allston, MA 02134
Phone: (617) 782-8226
Lord Hobo
Address: 92 Hampshire St, Cambridge, MA 02141
Phone: 617.250.8454
Moan & Dove
Address: 460 West St, Amherst, MA 01002
Phone: 413.256.1710
Prairie Fire
Address: 242 Harvard St, Brookline, MA 02446
Row 34
Address: 383 Congress Street, Boston, MA 02210
Phone: 617-553-5900
Growlers Beer Bar and Bistro {W2036}
Address: 25 main street, Tuckahoe, NY 10707
Phone: 914.793.0608
As Is {M2387}
Address: 734 10th Avenue, New York, NY 10019
Forest Hills Station House {Q2272}
Address: 106-11 Continental Ave, Queens, NY 11375
Phone: 718.544.5000
Gold Star Beer Counter {M2116}
Address: 176 Underhill Ave, Brooklyn, NY 11238
Haymaker [M8937]
Address: 252 W 29th St., New York, NY 10001
Phone: 646.429.8237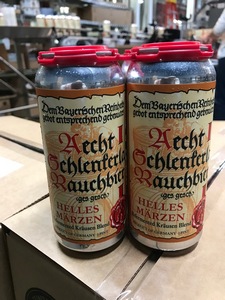 Proletariat {X9619}
Address: 102 St. Marks Place, New York, NY 10009
Phone: 212.777.6707
The Ginger Man NYC {N0011}
Address: 11 East 36th Street, New York, NY 10016
Phone: 2125323740
The Owl Farm {B6169}
Address: 297 9th St., Brooklyn, NY 11215
Bavarian Lodge
Address: 1800 Ogden Ave., Lisle, IL 60532
Phone: 630.241.4701
Map Room
Address: 1949 N. Hoyne, Chicago, IL 60647
Phone: 773.252.7636
Sleeping Village
Address: 3734 W. Belmont Ave., Chicago, IL 60618
Pizzeria Paradiso, Old Town
Address: 118 King Street, Alexandria, VA 22314
Phone: 202.337.1245
Rustico "Alexandria"
Address: 827 Slaters Lane, Alexandria, VA 22314
Phone: 703.224.5051
Rustico "Ballston"
Address: 4075 Wilson Blvd, Arlington (Ballston), VA 22217
Phone: 703.224.5051
Church Key
Address: 1337 14th St. NW, Washington DC, MD 20005
Phone: 202.567.2576
Max's on Broadway
Address: 737 South Broadway, Baltimore, MD 21231
Phone: 410.675.6297
Pizzeria Paradiso
Address: 3282 M Street NW, Washington DC, MD 20007
Phone: 202.337.1245
The Partisan
Address: 709 D Street NW, Washington, DC
Phone: 202.524.5322
Edmund's Oast
Address: 1081 Morrison Drive, Charleston, SC
Phone: (843) 727-1145
In North Carolina:
Gugelhupf Bakery-Patisserie-Cafe
Tasty Beverage - Asheville
The Brewer's Kettle - High Point