Schlenkerla Hansla low-alcohol
also available without smoke flavor: Heinzlein
Historical background: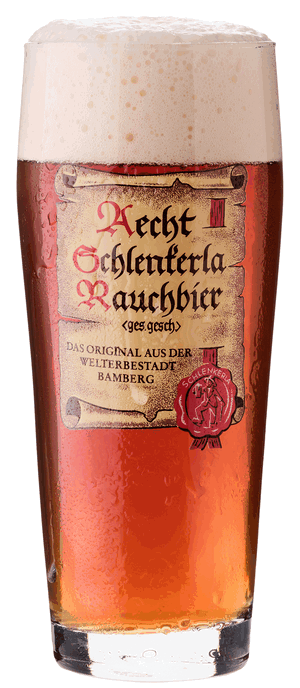 In the developed world we are nowadays used to being able to enjoy water in drinking quality anytime. Basis for this are an efficient sewage system including purification plants and a hygienic water network. While already in Roman times such a system had been in operation (though not as technical as today), later Europe was from medieval times until late 19th century not as advanced anymore. Wastewaters flew uncleaned and usually out in the open into rivers; often they were just dumped into the street. Therefore e.g. tanners, which produced particularly dirty effluents, had to be downriver within towns. People drew their water from local wells or from rivers and hence such waters were usually filled with microbes and could cause sicknesses. Anyone who could afford it therefore did not drink plain water.
The beverage of choice was beer: As it is boiled in the brewing process all microbes in the brewing water are killed. In addition, hops has a bacteriostatic effect and prevents new germs from growing. Last but not least the fermentation lowers the pH level of the beer to such an extent that common pathogenic bacteria will not survive in it. Of course the humans of the middle ages did not know any of these scientific facts, but they knew through trial and error, that they often got sick from water, but not from beer.
Standard beers of the time had less alcohol than today, but were closer to light beers with 2-4 % alcohol. The blue print of the monastery St. Gallen (today Switzerland) from 830 A.D. shows a special brewery for this type of beer (plus 2 more breweries for stronger beers). In the monasteries such beers were called "Kovent" or "Kofent". For hard labor with high drinking need and for children this was taken one step further in Bamberg: Light beers with an even lower level of alcohol were brewed using a special brewing technique. To make such a beer bacteriologically stable despite the low alcohol level, it was hopped more than normal beers (similar to IPAs to make them long lasting for the shipment to India).
Aecht Schlenkerla Rauchbier Hansla continues this tradition today in brewing a low alcohol (0.9 % alc./vol.), hoppy, unfiltered smoked beer using this old brewing technique. At the same time it has only 13 calories per 100ml, i.e. 65 calories per half liter.
low alcohol or alcohol free (in Germany)?
< 1.2% alk./vol. = low alcohol
< 0.5% alk./vol. = alcohol free (so called)
The limit for so called "alcohol free" has been set by German lawmakers and varies depending on type of beverage. Grape juice for instance can have up to 1% alcohol per volume while still being a " alcohol free beverage".
And completely free from alcohol?
There are a few beers with 0% alcohol, but these have to be made with an expensive technical machinery. Hence those beers are typically only produced by industrial breweries.
Beers descriped as "alcohol free" have due to technical reasons for the most part an per volume alcohol contenct of close to 0.5% (the limit set by law). In those beers the fermentation is stopped by pasteurizing them, which results in the typical sweet maltsugar flavor known e.g. from alcohol free wheat beers, and some people call this flavor "not beer like". As the Rauchbier Hansla and the Heinzlein such beers are therefore not totally free from alcohol. In the old brewing technique for Hansla & Heinzlein the fermentation is however not stopped, as the necessary technology for this had not been invented yet in the Hansla era. The alcohol contenct is hence a bit higher than in so called alcohol free beers, but the beer flavor is more genuine.